Here is some background to the report::
Following a six-month long investigative research project, the Center for American Progress released a 130-page report today which reveals that more than $42 million from seven foundations over the past decade have helped fan the flames of anti-Muslim hate in America. The authors - Wajahat Ali, Eli Clifton, Matt Duss, Lee Fang, Scott Keyes, and myself - worked to expose the Islamophobia network in depth, name the major players, connect the dots, and trace the genesis of anti-Muslim propaganda. The money has flowed into the hands of five key "experts" and "scholars" who comprise the central nervous system of anti-Muslim propaganda... These five "scholars" are assisted in their outreach efforts by Brigitte Gabriel (founder, ACT! for America), Pamela Geller (co-founder, Stop Islamization of America), and David Horowitz (supporter of Robert Spencer's jihad Watch). As the report details, information is then disseminated through conservative organizations like the Eagle Forum, the religious right, Fox News, and politicians such as Allen West and Newt Gingrich.
Disclaimer: This report is provided here for information purposes as we believe it is of general benefit and in the public interest, and it does not mean that we necessarily agree with every single opinion contained therein or endorse any of the parties or groups mentioned therein.
While the report is long (130-pages) and a very interesting read it has some excellent summaries. The images below provide a breakdown of this very tightly co-ordinated infrastructure which is aimed at demonizing Muslims.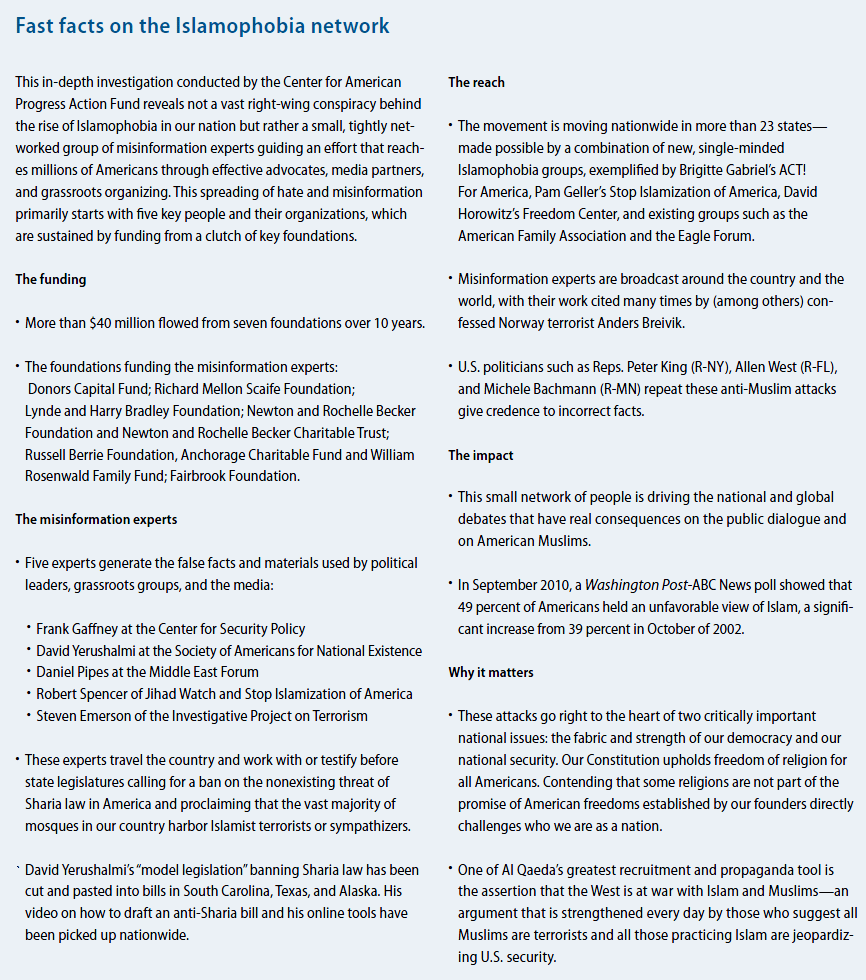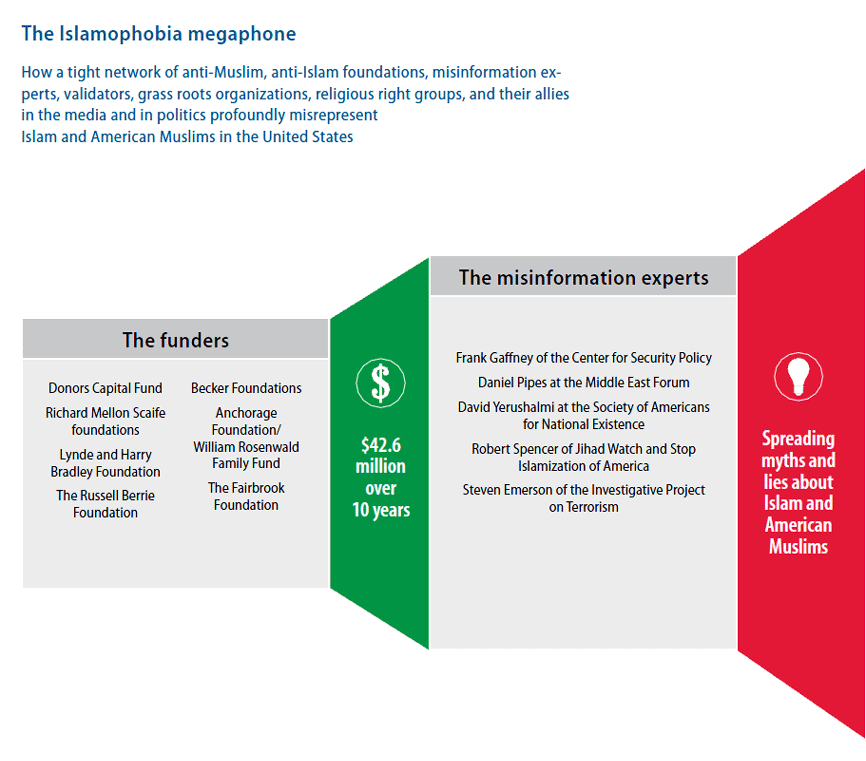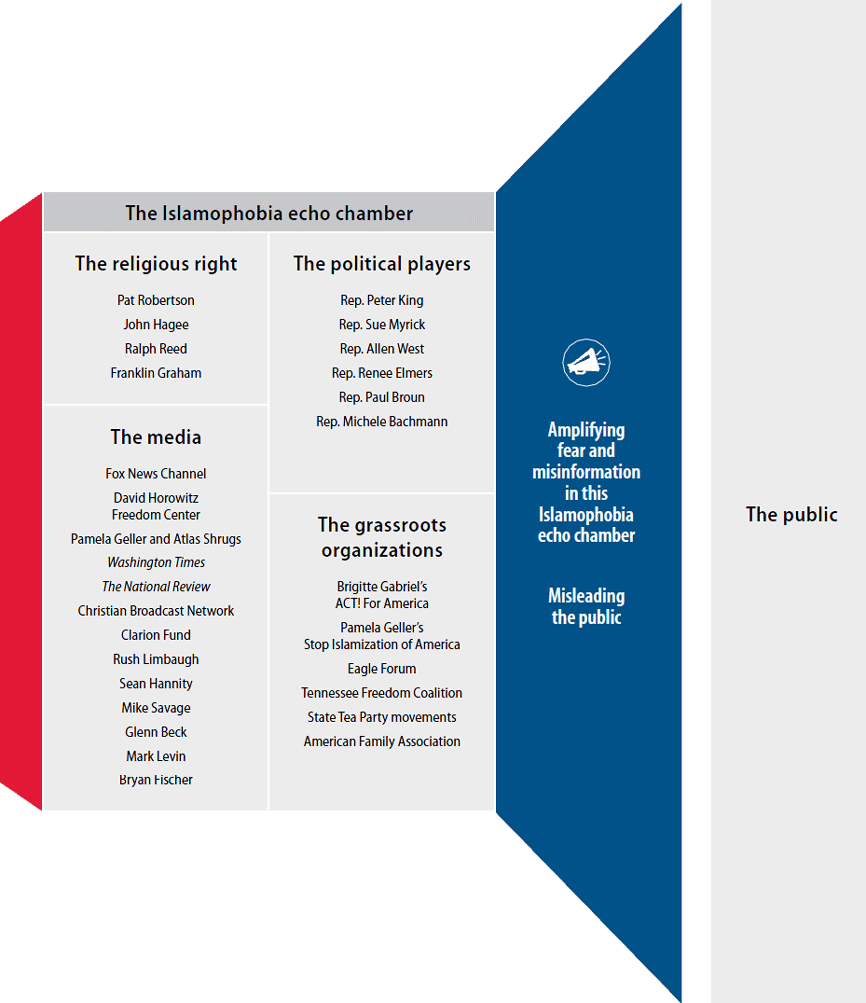 Notes and Comments
First: Smart and intelligent people should realize that this carefully planned and co-ordinated agenda is aimed at diverting the attention of the non-Muslim majority away from the fact that private central banks owned by international banking families loot their wealth and sovereignty through interest-bearing currency forced upon them as a debt - a formula to enable the looting of the fruits of private endeavour. Sports, entertainment, mass immigration, creation of phobias and artificial enemies are then used keep attention diverted from the higher level crime of organized theft of a nation's wealth through central banking practices and compound interest. The demonization against Islam and Muslims can be better appreciated by the fact that Islam declares war on interest, protects the fruits of private endeavour, imposes burden of equal risk in all business agreements and contracts, and produces a very strong moral fabric which makes its adherents resistant and buffered against the strongly-encouraged following of the whims, lusts and desires of the soul through mass-marketing and media propaganda which in Western nations - as part of a materialist paradigm - are used to keep the people engrossed and entertained in superficial consumerism as their jobs are destroyed, their homes are stolen, and their children forced into debt-slavery for generations to come.

Second: It is not as if these Islamophobes don't have an excuse for their anti-Muslim and anti-Islam propaganda. They find in the extremists from the contemporary takfiri Kharijites and deviants such as the splinter groups of Hizb al-Tahrir, al-Muhajiroun (and all the other deceptive names and labels they have chosen to operate with) - who by no means represent the generality of Muslims. But the presnce of these deviant groups with deviant ideologies and methodologies provide the perfect opportunity to scaremonger the average non-Muslim American or European, giving rise to strong xenophobic sentiments which can then be monopolized upon by the Islamophobes to be managed and directed in whatever way they feel is appropriate (at local and national policy level) to serve the higher interests that operate behind the scenes.