You are here:
Home

Articles
Royal Marine Bomb Maker Admits Terror Charges, Given 18 Years


Posted by Admin, Senior Editor in Articles

---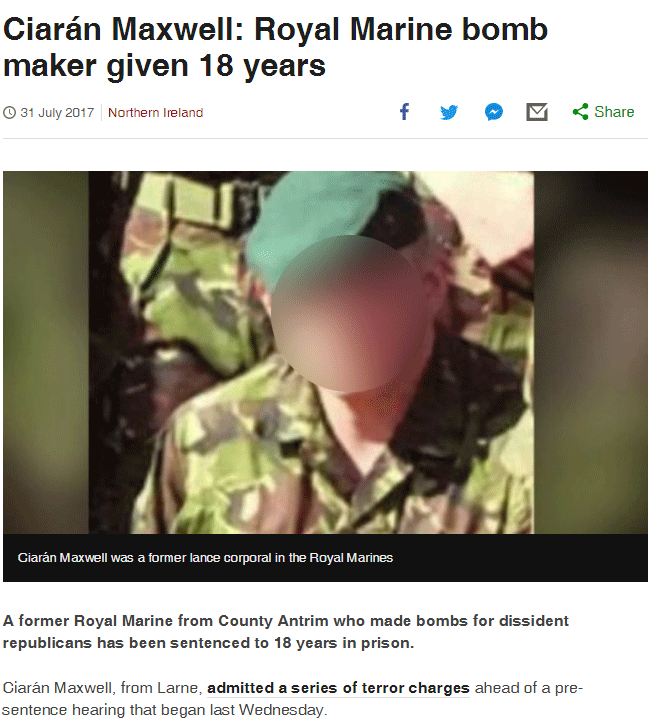 A former Royal Marine from County Antrim who made bombs for dissident republicans has been sentenced to 18 years in prison. Ciar?n Maxwell, from Larne, admitted a series of terror charges ahead of a pre-sentence hearing that began last Wednesday. After his arrest last year, police found 43 weapons hides.

On Monday, an Old Bailey judge told Maxwell he must serve a further five years on licence after his release.

The judge said Maxwell was motivated by hostility to the United Kingdom and had betrayed his position in the armed forces.

He told the former lance corporal that the purpose of a pipe bomb - 14 of which were constructed by Maxwell - was "to maim and kill a potential victim".

The judge rejected Maxwell's account that he was motivated by post traumatic stress disorder resulting from a sectarian beating he received as a teenager.

He said Maxwell was "dangerous" and threatened the political stability of Northern Ireland.

The judge added that Maxwell had "considerable skills as a terrorist bomb maker" and enjoyed his work.

"There was considerable planning, including attack planning, research, and the acquiring of large amounts of materials, including police items for use in disguise," Mr Justice Nigel Sweeney said.

"You were strongly committed to the cause.
Source: BBC News
---
Link to this article:
Show:
HTML Link
•
Full Link
•
Short Link
| | | |
| --- | --- | --- |
| Share or Bookmark this page: You will need to have an account with the selected service in order to post links or bookmark this page. | | |
---
Add a Comment
You must be registered and logged in to comment.