You are here:
Home

Articles
Plot of Kharijite Terrorists Against Al-Haram Mosque in Mecca Targeting Worshippers Foiled


Posted by Admin, Senior Editor in Articles

---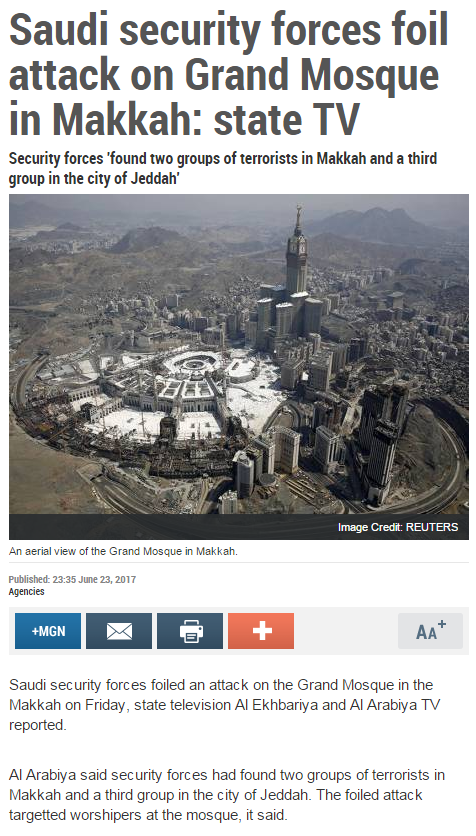 JEDDAH: A suicide bomber who blew himself up in Makkah was preparing to carry out an attack on the Grand Mosque, the interior ministry said. Five people, including a woman, have been arrested. The bomber fired on security forces before detonating an explosive device inside a building causing its collapse. Arab News.
Saudi security forces foiled an attack on the Grand Mosque in the Makkah on Friday, state television Al Ekhbariya and Al Arabiya TV reported. Al Arabiya said security forces had found two groups of terrorists in Makkah and a third group in the city of Jeddah. The foiled attack targetted worshipers at the mosque, it said. The first operation was foiled in Makkah in Assila district, while the second was thwarted in Ajyad Al Masafi neighborhood. A suicide bomber, who was hiding in a house in the Ajyad neighborhood, opened fire on security forces and refusing to comply with calls to turn himself in. He later blew himself up after a crackdown on him. Six people were injured and five members of the security forces were lightly injured. Gulf News
---
Link to this article:
Show:
HTML Link
•
Full Link
•
Short Link
| | | |
| --- | --- | --- |
| Share or Bookmark this page: You will need to have an account with the selected service in order to post links or bookmark this page. | | |
---
Add a Comment
You must be registered and logged in to comment.